Kind: Subsystem
Class: Support
Type: System
Map Update System
Overview
The 'Map Update System' represents a provider of map databases used to support ITS services. It supports the provision of the map data that are used directly by vehicles (e.g., roadway and intersection geometry data sets), travelers (e.g., navigable maps used for route guidance and display maps used at traveler information points), system operators (e.g., map data used by Traffic Operators to monitor and manage the road network, and map data used by Fleet Managers to manage a vehicle fleet). It may represent a third-party provider or an internal organization that produces map data for agency use. In the latter case, the 'Map Update System' is typically included as part of the center (e.g., a Traffic Management Center) of the infrastructure owner/operator that manages map data. Products may include simple display maps, map data sets that define detailed road network topology and geometry, or full geographic information system databases that are used to support planning and operations.
This physical object is included in the following Service Packages:
Security
This physical object has the following security levels for the associated service packages.
Physical Object Security
Security Class
Confidentiality
Integrity
Availability
Service Package
Class 3
Moderate
High
Moderate
Map Management
Interfaces Diagram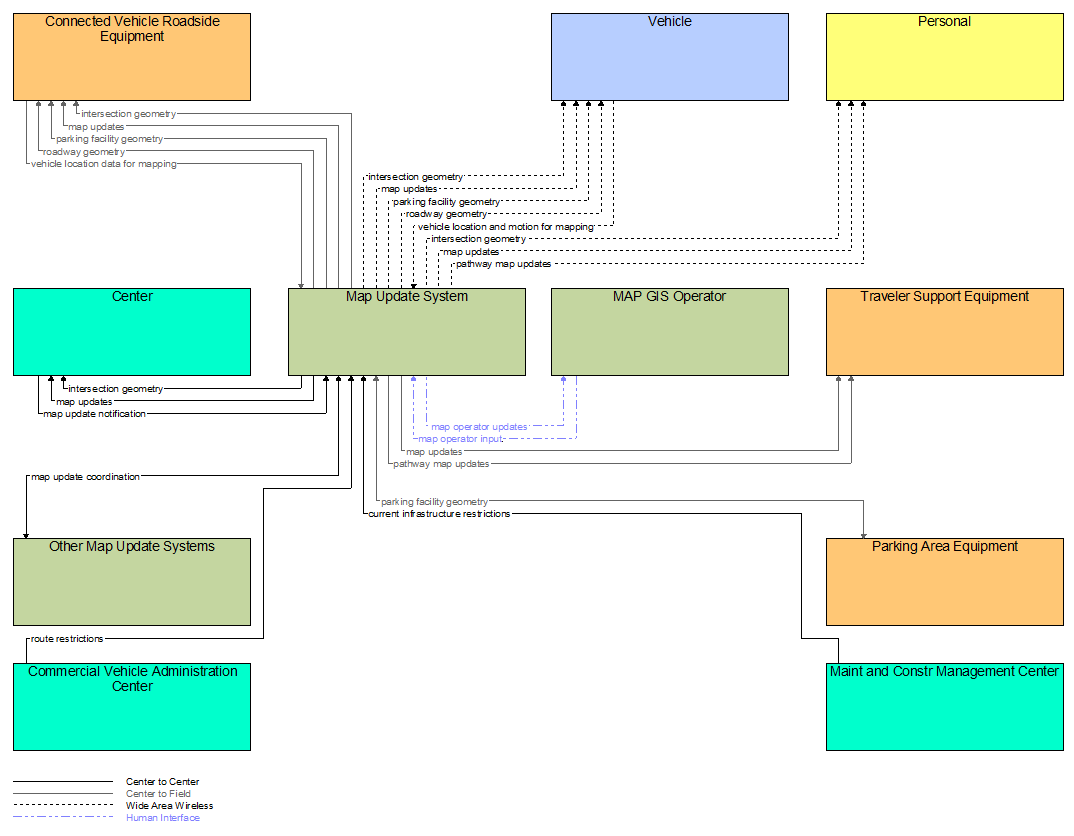 Standards
Currently, there are no standards associated with the physical object itself though the interfaces may have standards associated with them. For standards related to interfaces, see the specific information flow triple pages.